TEAM MEMO
To: TEAM-IFPTE Local 161 Members
From: TEAM Office
Date: April 4, 2016
Re: Negotiations Update - Conciliation
---
Since MTS applied for conciliation, members have been contacting the office asking about the process. Below is a high-level outline:
The Minister of Labour has up to 15 days to appoint a conciliator.

The conciliator has 14 days to contact the parties and set up a mutually convenient date to meet.

The conciliator has 60 days after being appointed, unless extended by mutual agreement, to meet with the parties to review the outstanding issues and attempt to bring the parties closer together.

Should the parties fail to reach an agreement though conciliation, a 21 day cooling off period begins, during which time the Minister can appoint a mediator.

At the end of the cooling off period the parties are in a legal strike/lockout position.

72 hour notice is required prior to the commencement of a strike or lockout, however the action cannot start until the 21 day cooling off period has ended. A Union must have taken a strike vote before initiating any strike action.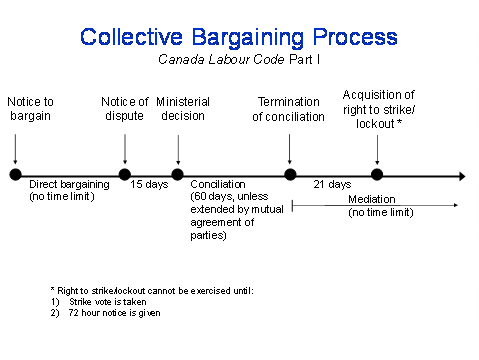 A more detailed explanation of the process can be found here.
---
TEAM-IFPTE Local 161
204-984-9470 or 1-877-984-9470
[email protected]
facebook.com/teamunion161
twitter.com/teamunion161