Latest News
---
TEAM Update
May 14th 2013
Bob Linsdell, TEAM Executive Director attended the MTS Annual General Meeting of Shareholders ...read more
---
Negotiations Update – TEAM's Proposals
May 7th 2013
---
Negotiations Update – MTS' Offer
May 6th 2013
After reviewing our monetary proposals for a day, on Friday MTS submitted their monetary offer to your Negotiating Committee ...read more
---
Personal Leave Days
May 2nd 2013
---
Negotiations Update Meeting and Straw Poll Results
April 25th 2013
PowerPoint presentation and straw poll results from last week's negotiations update meetings held in Brandon, Winnipeg and by video conference in the regions ... read more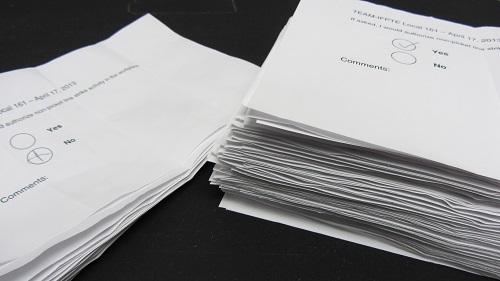 ---
Notice of Termination - FAQ
April 23rd 2013
We have received many questions and requests for clarification of what the Notice of Termination of the Collective Agreement means to us. In response, we have prepared an FAQ to address the common themes ...read more
---
Urgent - Negotiations Update
April 19th 2013
Late yesterday MTS served notice that it will terminate our collective agreement
...read more
---
TEAM Press Release
April 15th 2013
Managers and Professionals Disappointed MTS Inc. Requests Government Intervention in Bargaining ...read more
---
Important Negotiations Update
April 11th 2013
We are disappointed to have to inform you that once again MTS has prematurely requested government intervention in the Collective Bargaining process. We will be discussing this and the monetary concessions that MTS is proposing at the negotiations update meetings next week ...read more
---
Manitoba Quits
April 4th 2013
The TEAM Board and office encourage all those who would like to quit smoking to enter the Manitoba Quits contest for a chance to win one of five $1,000 Grand Prizes to be awarded to participants who were successful in not smoking for the month of May ...read more
---
Workplace Bullying
March 22nd 2013
---
New and Noteworthy
March 21st 2013
Breaking News
From The Office
o The pension lawsuit appeal before the Supreme Court of Canada is scheduled for May 16th, 2013.
o Negotiating dates are scheduled for March 20, 21, April 2-4, and April 9-11.
Discounts
---
Overtime and Call-Out Meeting Presentation
March 5th 2013
Available now: Overtime and call-out meeting presentation, Arbitration Award and Dissent. ...read more
---
Negotiations Update
February 15th 2013
Your negotiating committee has met with the Company five times since January 18th ...read more
---
New and Noteworthy
February 12th 2013
The December and January Board Meeting reports are available - click on the month you wish to view.
Two recent articles are particularly noteworthy:
---
TEAM Negotiations Kickoff
January 18th 2013
Our Negotiating Committee met with the Company this morning ...read more

---
IFPTE Mourns Loss of its Member in Connecticut School Shooting
December 18th 2012
IFPTE mourns the loss of Anne Marie Murphy, a victim in the Connecticut school shooting ...read more
---
Statement on Sandy Hook School Shooting
December 14th 2012
IFPTE statement on the Sandy Hook Elementary School shooting ...read more
---
Negotiations
December 6th 2012
MTS Inc. served Notice to Commence Collective Bargaining on December 3rd, 2012 ...read more
---
Bargaining Survey Results
December 4th 2012
Complete results of the bargaining survey are now available; please click here to view the results.

---
TEAM General Meeting Presentation & Survey Summary
November 9th 2012
The meetings in both Brandon and Winnipeg were well attended ...read more
---
Breaking News: Supreme Court Grants Leave to Appeal
October 25th 2012
The application for leave to appeal is granted with costs in the cause. / La demande d'autorisation d'appel est accueillie avec dépens suivant l'issue de la cause ...read more
---
New and Noteworthy
October 15th 2012
The September Board Meeting reports have been posted here. The reports provide summaries of TEAM and member activities since the last Board meeting.
Two articles in the media are particularly noteworthy:
---
Labour Relations Officer
October 15th 2012
TEAM welcomes new Labour Relations Officer, Wesley Emerson ...read more
---
Report to TEAM Members IFPTE Convention 2012
August 2nd 2012
| | |
| --- | --- |
| | TEAM-IFPTE Local 161 members attend the 2012 57th IFPTE Convention in Las Vegas. "I was impressed by the diversity of the IFPTE membership, with union brothers and sisters from across Canada and the USA, representing occupations as diverse as Administrative Law Judges, NASA scientists, Nuclear engineers, and Professional Accountants and Toll-Collectors."... read more |
---
Unpaid Overtime an Issue for Employees & a Liability for Business
July 31st 2012
From CBC news:
Technology and Science, Jul 30, 2012: "Smartphone use can mean a never-ending workday"... read more
Business, Jul 31, 2012: "Unpaid overtime a growing legal liability"... read more
---
Take a Break Hot Dog Day Raised $358.29 for Winnipeg Harvest
June 29th 2012
Thanks to your generosity, we raised $358.29 and a full bin of food for Winnipeg Harvest.
Congratulations to our member in Finance who was the winner of the draw.
---
Bill C-377: An Attack on Canada's Unions
June 1st 2012
| | |
| --- | --- |
| A Conservative private member's Bill, if passed this fall, will unfairly impose costly and unnecessary disclosure requirements on unions, the strongest supporters of working people. Representatives from IFPTE and TEAM lobbied Members of Parliament to raise awareness about Bill C-377, including issues around privacy... read more | |
---
TEAM-IFPTE Local 161 Opposes Bill-C377
May 1st 2012
Bill C-377, if passed into legislation, will impose costly and discriminatory rules on unions. Across-Canada IFPTE delegation to visit Parliament later this month... read more
---
Pension Lawsuit - Supreme Court of Canada
April 11th 2012
Union and retires seek leave to appeal to the Supreme Court of Canada in pension surplus case… read more
---