Latest News
---
Enhanced VRTIP
January 18th 2018
Earlier today, Bell MTS announced another downsizing of the Manitoba workforce... read more
---
Quick Links
December 21st 2017
---
New and Noteworthy
November 23rd 2017
Meeting with Bell MTS
Annual General Meetings
Banking of Vacation Credits
Women's Memorial Lunch
TEAM Scholarships
New Board Meeting Minutes and Reports
---
2017 Board Meeting Minutes and Reports
October 23rd 2017
The minutes and reports from the May and June Board Meetings have been posted.
---
New and Noteworthy (Sep 26, 2017)
September 26th 2017
TEAM Scholarships
Meetings with Political Leaders
Workload and Overtime
Annual General Meetings
Discount Program
Winnipeg General Strike
Unanswered Questions
... read more
---
TEAM-IFPTE Local 161 Annual Scholarships
September 7th 2017
TEAM-IFPTE Local 161 will award its annual scholarships to members and members' children as follows... read more
---
New and Noteworthy (Aug 3, 2017)
August 3rd 2017
United Way of Winnipeg
Working in Wireless?
TEAM Member's Grandchild wins IFPTE Scholarship
TEAM Moving to Telus?
Board Meetings
Net Credited Service Date
Personnel Records
DC Pension Plan
DB Pension Plan Statement
Local 162 Achieves New Collective Agreement
---
Take-a-Break & United Way Fundraiser
June 1st 2017
Recognizing we are in a stressful time, TEAM-IFPTE Local 161 invites members to take a break next week and join us for a hot dog, drink and bag of chips, and to raise funds for United Way of Winnipeg... read more
---
Enhanced VRTIP
May 1st 2017
Today, Bell MTS announced that it is seeking to reduce the number of employees in TEAM's jurisdiction... read more
---
New and Noteworthy (Apr 28, 2017)
April 28th 2017
Variable Pay Plans
NCS (Net Credited Service) and COS (Continuity of Service) Date
Mark Your Calendar
Board Meetings
Free Monitor
... read more
---
Dominick D. Critelli, Jr. Annual Scholarships
February 27th 2017
The International Federation of Professional and Technical Engineers will be awarding four scholarships of $2,500 USD each to children or grandchildren of IFPTE members who wish to continue their education beyond high school... read more
---
New and Noteworthy (Feb 17, 2017)
February 17th 2017
TEAM Collective Agreement
Wage Increase
MTS Sale
New Collective Agreement
New Representative
Check Your Personnel File
Check Your NCS Date
TEAM Survey Results
Unifor Ratifies Agreement
... read more
---
Mel Myers Labour Conference
February 8th 2017
TEAM will send up to two members-at-large to the 16th Annual Mel Myers Labour Conference, March 16 & 17, 2017... read more
---
2016 Board Meeting Minutes and Reports
December 31st 2016
The minutes and reports from the September Board Meeting have been posted.
---
New and Noteworthy (Dec 21, 2016)
December 21st 2016
TEAM office staff changes
Collective Agreement booklets coming soon
IFPTE raises concerns about Bill C-27; changes affecting DB pensions
Holiday coverage
... read more
---
Workplace Bullying
June 30th 2015
---
2014 Board Meeting Minutes and Reports
December 31st 2014
The December 9th Board Meeting minutes and reports are now available... read more
---
Pension Lawsuit Implementation Plan Decision and Payouts
December 10th 2014
On November 3, 2015, Justice Bryk approved the Implementation Plan, and as no appeal of his Decision was filed, Defined Benefit Pension Plan members will soon start to receive their share of the award... read more
---
Pension Lawsuit Settlement Implementation Hearing
October 30th 2014
The Pension Lawsuit Settlement Implementation Hearing is scheduled... read more
---
DB Pension Plan Information Session Recordings
October 10th 2014
Recordings of the information sessions can now be viewed at the following links:
---
DB Pension Statement of Election and Estimated Benefits Declaration
October 9th 2014
It has come to our attention that a former Company employee is advising active DB Pension Plan members not to sign the MTS Pension Lawsuit Settlement Implementation - Statement and Election of Estimated Benefits Declaration... read more
---
DB Pension Plan Award Payout FAQ
October 3rd 2014
I've received a number of questions regarding the DB Pension Plan Supreme Court Ruling Implementation. Following are the most frequently asked questions with answers... read more
---
DB Pension Plan Supreme Court Ruling Implementation Update
September 26th 2014
Late Wednesday, September 24th, TEAM signed an agreement to implement the Supreme Court's DB Pension Plan Ruling, providing enhanced benefits equal to $140 million... read more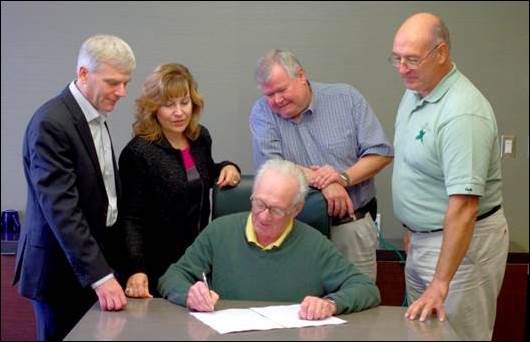 ---
Joint Message from Unions, Retirees and MTS Regarding the Supreme Court Decision
May 9th 2014
Joint Message from Unions, Retirees and MTS Regarding the Supreme Court Decision... read more
---
Joint Message from Unions, Retirees and MTS Regarding the Supreme Court Decision
March 11th 2014
Joint Message from Unions, Retirees and MTS Regarding the Supreme Court Decision... read more
---