TEAM MEMO
To: TEAM-IFPTE Local 161 Members
From: TEAM Office
Date: January 15, 2020
Re: New and Noteworthy
---
Pay Statement Adjustments: A number of members have questioned why there was an additional TEAM dues deduction from their January 10th pay. Our investigation found that about 150 members have been affected. The problem arose when Bell payroll implemented our pay increase and retroactive pay on November 29th. They deducted less dues than they should have from some members, and the adjustment on the January 10th pay is a correction. A similar problem occurred on May 17th and was corrected on June 14th. We are investigating further to ensure the recent adjustments are accurate. If you have any questions, please contact the office.
Surplus Vacation Accounts: As part of the transition to Bell's vacation system, members are to have access to vacation that they accrued between May 1 and December 31, 2019. These accrued days are to be placed into a special Surplus Vacation Account in ESS and can either be banked during the final vacation banking window between February 1 and April 30, 2020 (up to the maximum of 50 banked days), or taken as vacation days up until December 31, 2022. Members looking to view their Surplus Vacation Account in ESS are not yet able to do so, as the accrued days have not been loaded into the system. Bell reports it is working with IT and CGI and will provide an update soon on when we can expect the days to be visible in the system.

IFPTE Dominick D. Critelli, Jr. Annual Scholarships: The International Federation of Professional and Technical Engineers will be awarding four scholarships of $2,500 USD each to children or grandchildren of IFPTE members who wish to continue their education beyond high school. Details of the scholarships, eligibility criteria and application form can be found here. Applications must be postmarked on or before March 15, 2020. A TEAM member's child or grandchild has been awarded one of these scholarships for the past four years running; let's see if we can keep this winning streak going!
Celebration of Harry Restall's Life: Many TEAM members will have heard of Harry Restall for his many years in retirement seeking justice for the MTS Defined Benefit Pension Plan members (TEAM story from 2008). Harry died on Christmas day at the age of 89. He retired from MTS in 1989. Every single member of the Defined Benefit Pension Plan is better off today because of Harry's unrelenting dedication to see the case through to the end. From Harry's obituary:
"Harry was the driving force behind a successful class action lawsuit to improve the pensions of MTS retirees. The litigation lasted more than 12 years, culminating in victory at the Supreme Court of Canada. Thousands of MTS retirees now have better pensions than they had before. In 2012, Harry was awarded the Queen Elizabeth II Diamond Jubilee Medal in recognition of his tireless efforts on behalf of his colleagues."

Although our big win may now be a faded memory, as each of our members in the DB plan retire, they will receive an additional $230 payment (the residue of the $140,000,000 surplus award that came back to the plan members) as a little reminder of what Harry did for us. Harry's Celebration of Life was attended by about 150 family members and friends, including TEAM President, Misty Hughes-Newman, TEAM Executive Director, Bob Linsdell, our lawsuit legal TEAM, Brian Meronek and Kris Saxberg, and members of the retirees' association, TRAM.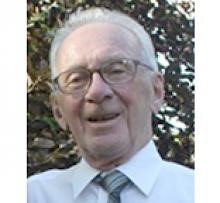 ---
TEAM-IFPTE Local 161
204-984-9470 or 1-877-984-9470
www.teamunion.mb.ca
twitter.com/teamunion161
facebook.com/teamunion161