TEAM MEMO
To: TEAM-IFPTE Local 161 Members
From: TEAM Office
Date: September 26, 2014
Re: DB Pension Plan Supreme Court Ruling Implementation Update
---
Late Wednesday, September 24th, TEAM, MTS, IBEW, Unifor and representatives for the retirees signed an agreement to implement the Supreme Court's DB Pension Plan Ruling:
All TEAM members in the Defined Benefit Pension Plan will shortly receive an information package in their home mail.
The package will layout the details of the settlement, the approximate amount each individual will receive and their options.
No payouts can occur until after the court has approved the Implementation Plan Agreement. The hearing is scheduled for November 3rd.
The complete Pension Plan Surplus and Implementation Agreement and the Pension Lawsuit Information Letter are now available on the MTS DB Pension Plan website.
Information sessions via video webcast for employees will be held on October 7th and 8th. You must register through the MTS DB Pension Plan website; "Upcoming Information Sessions". A recording of the video webcast will be available online for viewing at anytime.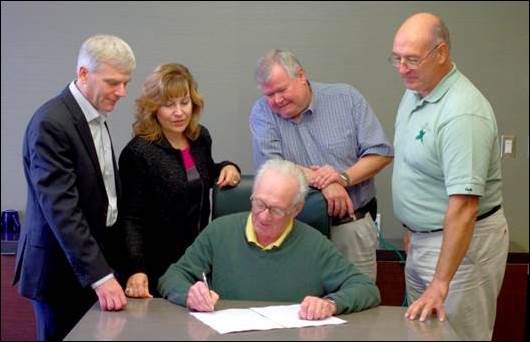 Signing the Agreement (left to right): TEAM Pension Rep Bob Linsdell, TEAM President Misty Hughes-Newman, Retirees Pension Rep Larry Trach, TRAM President Dave Gnutel, and seated, Harry Restall (main witness for plan members).
---
TEAM-IFPTE Local 161
204-984-9470 or 1-877-984-9470
team@teamunion.mb.ca
www.teamunion.mb.ca
twitter.com/teamunion161
facebook.com/teamunion161