This week is Freedom from Workplace Bullies Week.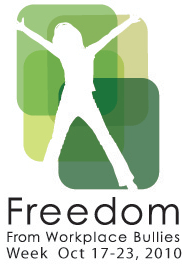 Workplace bullying and psychological harassment are destructive behaviours that affect the overall 'health' and productivity of employees, organizations, and communities around the world, including MTS Allstream Inc.
Adopting and implementing a zero-tolerance policy and confidential and effective reporting processes are some of the best ways organizations can combat bullying in the workplace.
Raising awareness about the issue and its serious consequences is also a key component in the fight against workplace bullying.
TEAM members are already making a difference.
With your support, TEAM worked with the Company to achieve improvements to the Respectful Workplace Policy (Corporate Policy #207.01), and with the Manitoba Federation of Labour in continuing to lobby government to enact legislative changes to protect against bullying in the workplace. Bill 219, The Workplace Safety and Health Amendment Act (Harassment and Violence in the Workplace) went before the Manitoba legislative assemby this past spring but unfortunatley did not pass into committee. More work needs to be done before Manitoba joins the ranks of Quebec, Saskatchewan, and Ontario; provinces with legislation protecting workers from psychological harassment and bullying in the workplace.
As employees of a federally regulated organization, TEAM members are covered by Part XX - Violence Prevention in the Work Place of the Canada Labour Code, which places specific requirements on the employer to provide a safe, healthy, and violence-free workplace, including obligations to educate and protect employees from all potential threats of workplace violence, including bullying.
If you, or someone you know, are experiencing bullying or psychological harassment in the workplace, please document and report the incident(s) to an appropriate supervisor, Human Resources Business Partner, or TEAM representative as soon as possible. All such complaints will be dealt with quickly, fairly, and confidentially.